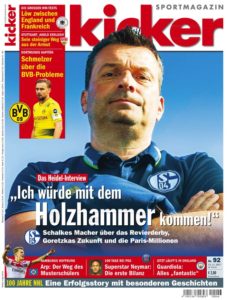 Kicker:
"The Heidel interview"
"I was coming with the mallet"
Kicker includes a huge interview with Christian Heidel inside the paper that we don't have access to yet. Further up the page we have this:
"Schmelzer on the BVB problems"
The Dortmund Captain Marcel Schmelzer protected the Dortmund manager after all the backlash:"Peter Bosz's calm, analytical nature gives the team a good feeling, he knows what he's doing," says Schmelzer.
"The fact that he sometimes even protects us must not lead us to dive behind him, we have a duty to give something back to the coach."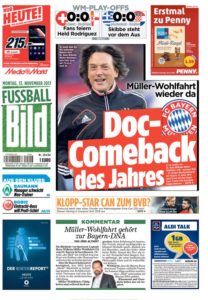 Fussball Bild:
"Doc comeback of the year"
This may seem a bit strange but yes, the main headlines are about 75 years old Doctor comeback at Bayern Munich. Hans-Wilhelm Müller-Wohlfahrt is now back as the team doctor in FC Bayern.