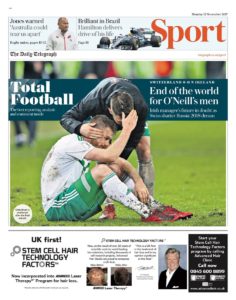 The Daily Telegraph:
The Daily Telegraph who empathizes with Northern-Ireland after their draw against Switzerland last night
"End of the world for O'Neill's men"
"Irish managers future in doubt as Swiss shatter Russia 2018 dream"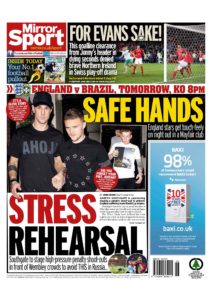 Daily Mirror:
"For Evans sake!"
"This goalline clearance from Jonny's header in dying seconds denied brave Northern Ireland in Swiss play-off drama"
But the main headline is this:
"Stress Rehearsal"
"Southgate to stage high-pressure penalty shoot-outs in front of Wembley crowds to avoid THIS in Russia…"
John Cross writes:
"Gareth Southgate is considering staging a penalty shoot-out to prevent England suffering more World Cup Misery"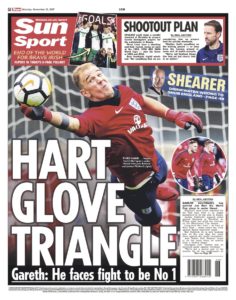 The Sun 
"Hart glove triangle"
"Gareth: He faces fight to be No 1"
It seems like Southgate has admitted for the first time that Hart is no longer guaranteed to be the first choice in Russia.
England has many keepers who are on the same level, just think about. Hart, Pickford, Butland, Heaton, and Forster are all playing in mid or low table clubs.