England
The Daily Telegraph:
"Southgate´s Samba beat"
"England youngsters prove again that they can live with the worlds best"
Daily Mirror:
"Steelmate"
"First Germany now Brazil… Southgate's kids keep the worlds best at bay"
And up top we have:
"Conte the top choice to rescue Italians"
Neil McLeman writes:
"Antonio Conte is the man Italy will turn to after their World Cup humiliation. The Chelsea boss is the preferred choice of senior members of the Italian FA, still coming to terms with their failure to get past Sweden in a two-legged play-off."
"Conte's fellow Italians Carlo Ancelotti and Roberto Mancini, both currently out of management, are also in the frame to return home to answer the SOS call"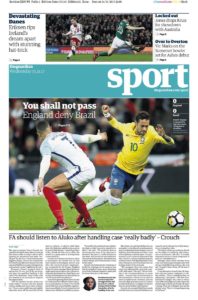 The Guardian: 
"You shall not pass, England deny Brazil"
and up here:
"Devastating Danes:
"Eriksen rips Irelands dream apart with stunning hat-trick"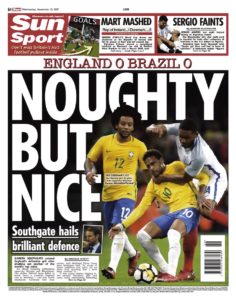 Sun Sport
Referencing the nil-nil draw between England and Brazil, the Sun writes: "Noughty but Nice"
"Southgate hails brilliant defence"
Italy:
Corriere Dello Sport:
"Do you go or not?"
"After the Blue Disaster, the Italian sports movement "Football should be rebuilt".
Malago: "I would have resigned"
De Laurentiis: "Through All"
Tavecchio tries to resist and play the Ancelotti card"
And up top we have:
"Juve-Goretzka, Yes!"
"Marotta breaks the losing time: here's the plan to get Schalke's talent from the German national team"
Tuttosport:
"And they are not gone!"
"Ventura: no resignation, but today he will be fired by the federation. Tavecchio remains clinging to the armchair, while Malago sends a clear message to him "In his situation, I would leave"
La Gazzetta Dello Sport:
"Italy: Here are 10 ideas to get ourselves back up"
"Start"
"National team: Ancelotti tempted but calls for a revival instead
Malago pans Tavecchio (who is still trying to hang on)"
Spain:
Marca:
"Unbeaten"
"Open match between Spain in Russia … but we made it through 2017 without losing"
and a bit further down we have:
"The year ends with eight wins and two draws. Sergio Ramos scores on penalty twice, something that hasn´t happened since 1927.
Lopetegui, cautious: 'Without control of the ball we are vulnerable' "
Marca also includes an interview with Carvajal the top right corner:
"I was scared and I thought that, if it was serious, I would have to retire,"
"The first three or four weeks were the worst because I practically couldn't do anything, I couldn't raise my heart rate in any way and it was very low.
"The body demands activity, especially those of us who are athletes."
It appears that the derby with Atletico Madrid will arrive too soon for Carvajal and he will probably not be able to play.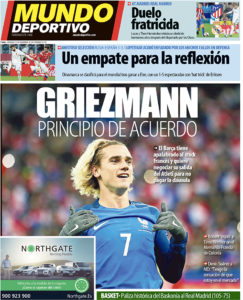 Mundo Deportivo:
"Griezmann. Principle of agreement"
"Barça has agreed to the French superstar and wants to negotiate his departure from Atleti to avoid paying the clause"
Mundo Deportivo keeps going in the article:
"According to Le10Sport, Barça has been in contact with Antoine Griezmann during the last weeks. And the discussion between the two parties has advanced very well, to the point that there would be a common principle of agreement on the terms of a future contract, a pact subject to certain conditions."
AS:
"Mr Penalty"
"Spain cornered in Russia, Lopetegui: Without the ball we are vulnerable"
Up top we have:
"Ceballos party – hat-trick, one spectacular goal in under-21 victory over Slovakia, 5-1"
France:
L'Equipe:
"Too bad, It was good"
"Equalized at the last second. The Blues, thanks to a double of Alexandre Lacazette, have achieved a very good performance against the world champions"
RMC
As you may or may not know, 2 months ago Hatem Ben Arfa's lawyer made contact with Ligue 1's Committee on Legal Affairs after learning that the Paris Saint-Germain attacker has been asked to train with the reserve team on multiple occasions.
The Interview between the Legal Commission and Ben Arfa has now been held and RMC has already talked to Ben Arfa about this, he says:
"I'm looking for peace with PSG, so I'm really happy with this meeting, with the club representatives, and the commission."
"Since October 17, it's going well and I think it's going to continue, there's no problem, I'm no longer asked to play with the reserves. I'm training hard, I'm not going to not force the coach to make me play, it's not my responsibility."
Germany:
Sport Bild:
"Bayern's storm problem"
"Lewandowski: I advise the bosses"
Bild also writes about two kinda interesting Transfer rumours, first they write:
"According to the Sun, Atletico Madrid has contacted Mesut Özil and made an offer for the 29-year-old to make a move next summer. Which means that the midfield star would move on free transfer"
They keep going with:
"Meanwhile, Paris St. Germain has, according to L'Equipe, an eye on Julian Weigl. After PSG's massive improvements in the attack with Neymar and Kylian Mbappé, the defensive should now be upgraded as well."
Die Welt:
"Grazie, Gigi!"
"At the bitterest moment of his career, Gianluigi Buffon showed his greatness. After the missed World Cup qualification, the Italian goalkeeping legend first and foremost congratulated the Swedish players. For the 39-year-old, the 175th international match became his last. The Azzurri without their passionate lead singer? Hardly imaginable"